Veganism is often regarded as an unattainable lifestyle for most. It is seen as expensive and inaccessible to those without a lot of time and money to devote to it. But that is simply not true! At Gone West, we took on the challenge to create an entirely vegan 3-week meal plan for two people that costs around £30 for the week, just in time for Veganuary! We wanted to debunk the myths by living the lifestyle that we are preaching.
What's so great about veganism?
Before we get into how to live a budget vegan lifestyle, you need to know why you're doing it.
So, you're probably aware that we're all in a bit of a sticky situation regarding climate change and that we need to act now in order to slow down/stop the detrimental effects of global warming. There are many ways to make your lifestyle greener. You could make your house more sustainable, spend more time outside, make more eco-friendly choices when it comes to work and school, the list goes on. But, one way to have a big impact is to incorporate veganism into your diet.
The meat and dairy industry accounts for around 14.5% of the global greenhouse gas emissions. As well as that, a lot of the land used to raise the animals has been exploited or destroyed. Around 70% of global deforestation comes from agriculture, so not only is farming contributing to greenhouse gas emissions, it is also taking away the one thing that will reduce the effects of those emissions.
Want to know more about the cause of deforestation and the effects it has on the climate? Read our Amazon Rainforest Day blog here.
Veganism lowers the need for this exploitative farming and thus leads to a decrease in deforestation and greenhouse gas emissions. It also generally leads to less waste because most vegan food can be composted too.
Other than environmental benefits, there are also lots of health benefits too. Consuming animal products on a regular basis can lead to issues with cholesterol and fat build up that can lead to life threatening issues. Veganism takes away the factors that contribute to this and therefore is widely considered the best diet to have. Obviously there are conditions. Eating vegan alternatives like vegan chocolate or some meat substitutes often has the same effect as eating meat because they are entirely processed. To get the most out of a vegan diet, you must try to stick to as much natural stuff as possible!
3-week meal plan
The idea behind this 3-week meal plan is to give you loads of options that aren't limited to salads or vegan staples like veggie burgers. We know it's not realistic to live off of these and you may just not want to eat typical vegan foods. We've included meals covering a range of all kinds of dietary needs, as well as preferences. For example, we didn't really include anything with chickpeas because we don't like them! This way, you have an extensive list of tasty, filling meals you can choose from that are easy to make!
As well as that, we have made sure to include meals that don't take too long to cook and meals that aren't complicated to make. This is perfect for busy professionals or for people who just don't feel like spending their evenings in the kitchen.
We have also made sure to include 3 of the major supermarkets in the UK to ensure that the cost is the same countrywide.
Finally, all weekly meal plans cost around £30 for the entire week (for two people) to make sure it was accessible to everyone!
Before we dive in, are you curious about what impact climate change had on the planet in 2021? Read our article to find out more.
Week 1 – Sainsburys
For breakfast, we mainly ate vegan cereal with oat milk, and sometimes contrasted that with toast and vegan spread. The cereal was £2.80, the milk £1.80, bread was 55p, and the spread was £1.20.
Lunch
To keep the price low, sandwiches were a favourite on the menu. There are a variety of meat substitutes made especially for sandwiches, and there are always things like vegan cheese or veggies that can go in them too. We didn't have soups because we're not fans, but soup is a great, cheap, vegan alternative to have for lunch! The bread was 55p, but we had already bought bread for breakfast, so that doesn't add to our total, and the meat substitutes were a little more expensive at £2.50.
Dinner
We tried to add a variety of meals and cuisines to the menu to make sure that everyone reading would have something they'd like to try.
The first meal on our list is Tofu Butter Chicken. This is a vegan twist on a British classic that everyone will love. The prep was easy, all you had to do was chop up the tofu and add a few spices and put it all into a slow cooker and let it cook for a few hours. 
If you're used to spicy curries though, this might not quite live up to expectations. It tasted good, but those in-your face flavours weren't really there.
Total cost: £3.96
Cost per serving: 50p-66p
Rating: 4/5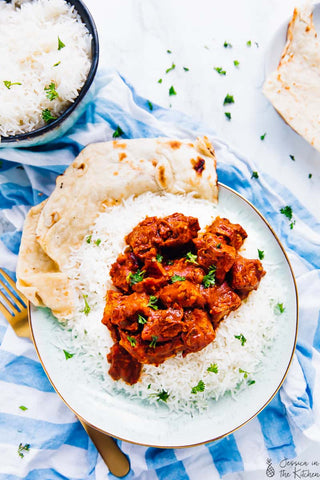 Credit: Jessica in the Kitchen
Roast Dinner
Who doesn't love a good roast dinner? Just because you're vegan, doesn't mean you should miss out on this comfort food.
Luckily, most components of a roast dinner are vegan anyway. The only thing you really need to switch up is the gravy and the meat. Of course, you could just have the veg, but we decided to try plant-based sausages to see how they fared.
The meal was very nostalgic and tasted just like a normal roast dinner. The sausages didn't taste like meat sausages, but they still tasted great. The prep takes a little while, but that's typical of a roast.
Total cost: £4.93
Cost per serving: £2.47
Rating: 4/5
This is actually a recipe from Hello Fresh originally. The dish is entirely vegan and tastes very good! The prep time is around 25 minutes, but is very simple.
Total cost: £6.59
Cost per serving: £3.30
Rating: 3.5/5
Another Hello Fresh recipe! But this time it's modified to be vegan. This recipe takes a little bit of time because it requires you to make your own seitan. You could also substitute the chicken in the original recipe with tofu, plant-based chicken, or banana blossoms, but the texture of homemade seitan fits perfectly with this meal.
This dish is so tasty! It feels like you're eating a takeaway but better!
Total cost: £5.68
Cost per serving: £2.84
Rating: 4.5/5
Credit: Hello Fresh
Another British classic! This recipe was actually really fun to make and the end results were fantastic. We've never had a vegan meal that didn't involve a meat substitute that tasted so similar to the dish it is replicating.
This was actually one of our favourite recipes we tried!
Total cost: £3.70
Cost per serving: £1.85
Rating: 5/5
Another tweaked Hello Fresh recipe is coming up! We are huge fans of enchiladas, so this was a must! Instead of mince, we used jackfruit instead! Although it's not quite like mince, it is a good substitute for minced or shredded meat products. We also substituted the soured cream with coconut yoghurt.
This was another good tasting meal and it was relatively easy to make too!
Total cost: £5.05
Cost per serving: £2.53
Rating: 4/5
Ever thought about foraging for food to cook with? Read our guide for everything you need to know about it!
Week 2 – Asda
In week two, we tried to choose meals that would be quick and easy to make. Just to make sure that everyone had access to a menu that was realistic for them.
Breakfast
Similar to week 1, we just stuck with cereal and toast. The bread cost 49p and the oat milk cost £1.25. 
Lunch
The lunches in week 2 were very similar to week one, but we decided to add jacket potatoes in the mix. Jacket potatoes are a good way to fill you up, get nutrition, and not put you out of pocket. The potatoes cost 42p for 4 and the filling was 55p.
Dinner
Plant-Based Burgers with Chips
You could make these from scratch, or you could do what we did and get pre prepared veggie burgers. The meal was quick and easy to make, all you have to do is cut up the potatoes and then put everything in the oven!
Total cost: £2.77
Cost per serving: £0.69
Rating: 4/5
Bacon and Butternut Squash Risotto
This Hello Fresh recipe needs a few swaps but it's super tasty and easy to make. Just swap the bacon for vegan bacon – or just leave it out entirely! You will also need to swap the cheese for vegan cheese.
Total cost: £8.04
Cost per serving: £4.02
Rating: 3/5
Credit: Hello Fresh
Pizza
This is a really easy, cheap dinner you can make whenever you want! Obviously, you could buy a pre-prepared pizza, but they can be quite expensive, especially vegan ones. Instead, buy naan bread/garlic bread/pitta bread/tortilla (make sure they are vegan) and top it with tomato purée, vegan cheese, and whatever other topping you like on your pizza. Put it in the oven at 200ºC for about 10-15 minutes and you've got a tasty pizza!
Total cost: £2.40
Cost per serving: £1.20
Rating: 3.5/5
Plant-Based Mince Loaded Potato Wedges
More Hello Fresh recipes! This one is already a veggie recipe, but you'll need to substitute the cheese and soured cream for vegan alternatives. It's a really good tasting meal that doesn't require much work. It's definitely a comfort food!
Total cost: £6.77
Cost per serving: £3.39
Rating: 4/5
We usually make our bolognese up as we go along, but that's not really useful for you. So we've included a recipe that is similar to how we made it. Bolognese is a classic that's super quick and easy to make and it is always tasty!
The majority of this recipe is vegan, but make sure to swap out the creme fraiche with a plant-based yoghurt. This is one of the most flavourful vegan curries we've tasted! It's just the right amount of spice and the perfect amount of flavour. Very tasty! It's also very simple to cook and doesn't take long at all!
Total cost: £4.11
Cost per serving: £2.06
Rating: 4/5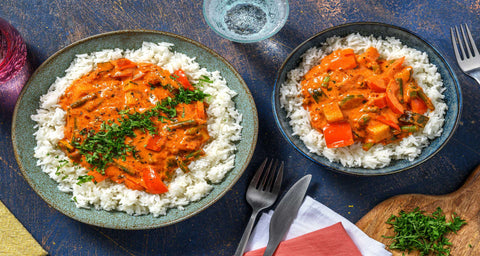 Credit: Hello Fresh
Do you follow all of the young activists that are trying to change the world? Read about them and find out where to follow them in our article.
Week 3 – Morrisons
Similar to week 1 and 2, breakfast and lunch consisted of cereal, toast, and sandwiches. All of which cost a similar price to the previous weeks.
This has been a staple in our kitchen for years now. We found it in a recipe book called Keep it Vegan. It takes the classic macaroni cheese and puts a tasty spin on it. Instead of cheese, the recipe uses a butternut squash purée. Sounds weird, we know! But it's really tasty!
That's our favourite recipe in that book, but we've provided a similar recipe in the link in the title in case you don't want to get the book!
Total cost: £3.06
Cost per serving: £1.53
Rating: 5/5
Another dinner time staple made vegan, lasagna! You can't really go wrong with lasagne. You can try it with mushrooms, lentils, or plant-based mince to make it tasty. This one takes a little longer to do,  but it freezes well and is very tasty!
Total cost: £9.94
Cost per serving: £1.66
Rating: 3/5
Credit: BBC Food
This is another recipe we've cooked for years. It's originally made with beef and cheese, but we substituted both of those for vegan alternatives. It serves between 4-6 people and is one of the tastiest comfort foods we've eaten.
Total cost: £6.30
Cost per serving: £1.58
Rating: 4.5/5
The best recipe to have if you're tired or you don't have time to cook anything else is stir fry! It takes 10 minutes and it's really flavourful. We didn't use a recipe, we just chose some vegetables, noodles and a sauce and made the stir fry. But there are plenty of options out there if you'd prefer to follow a recipe. The one linked above is a great example of that.
Total cost: £2.50
Cost per serving: £1.25
Rating: 4/5
Credit: The Pioneer Woman
Starting to round up the three weeks with a British classic. It's tasty, it's simple, it's cheap, and it's vegan. Just what we want! This vegan take on the well-known dish is really great and will take you right back to your childhood.
It takes a little bit of preparation, but once it's in the oven, it's easy.
Total cost: £5.38
Cost per serving: £0.89
Rating: 3/5
Pulled Jackfruit Burgers with Sweet Potato Fries
The last on our list is pulled jackfruit burgers. We were recently introduced to these and we've loved them ever since. If you've ever wanted the experience of eating at a restaurant at home, especially as a vegan (or aspiring vegan), then this is the perfect meal. It doesn't take much time to prep, and you can even get pre-prepared kits that make it easier. 
Total cost: £4
Cost per serving: £2
Rating: 4.5/5
Credit: Plant Based Blonde
In the end, even if you try one of these recipes once a week or once a month, you'll be doing so much for the planet. Being vegan isn't just about being kind to animals, or being healthy, it's about respecting the planet and not buying products that exploit land and animals. So this January, or this year, try being vegan. Even if it's just one day every now and again. It's worth it!
That's all for now. I hope you have enjoyed reading our blog. Join the sustainable revolution to help save our natural world and our future by following us on Instagram and by subscribing to our monthly newsletter for updates.
Subscribe to our newsletter.