Everyone loves to get away, especially after two long years of a global pandemic. From city breaks to countryside getaways, we're all itching to get out and about and take a break from daily life.
Camping and caravan holidays are becoming more and more appealing due to the increasing living costs and uncertainty surrounding air travel. They're a fun way to explore nature, whether that's in your home country or further afield.
We've recently partnered with Siesta Campers, so we're going to give you a run down of the best campervan holiday destinations to add to your travel bucket list!
Post Covid Travel
Before we get to our list of best campervan holiday destinations though, we have to discuss the current travel climate.
Travel restrictions implemented during the pandemic put a halt to free travel and we're still living with affects today. There are delays all over the world due to airlines firing staff members early in the pandemic. Many people have been stranded abroad and not compensated for their struggles.
As well as delays and restrictions, travel is also getting much more expensive. This is due to an all time high in inflation and the cost of living. Holidays are getting more expensive and so are bills, but our pay isn't increasing to match the rise, rendering lots of destinations unviable.
Credit: Towards Data Science
The effect of travel and tourism on the environment
Other than uncertainty and inconvenience surrounding travel, it also has a huge impact on the planet. Transport is responsible for one fifth of the world's carbon emissions and tourism is responsible for 8%.
Other than carbon emissions, tourism is also responsible for the degradation of natural spaces because developments are created to capitalise on the tourism industry, leading to deforestation and desertification.
Siesta Campers are a campervan rental company based in Portugal. The founder, Loyd, had many campervan holidays growing up and wanted to make that tradition more accessible to the world. They build and design their own campers and enjoy going on these holidays, just like they did when they were younger.
Starting at €100 per night, you can rent a campervan from Lisbon, Faro, and Porto. The styles range from vintage to modern but are all classic VW campervans to give you that authentic campervan experience.
The good news doesn't stop there! Siesta Campers are very eco-minded too! They aim to start making their first hybrid vans this year and have a fully electric fleet by 2026. As well as that, all of the materials they use to make the vans are responsibly sourced, and the best news is that for every booking made, they will plant trees with Gone West! After the devastating forest fires in Portugal in 2012, they realised the importance of native trees and vouched to help reforest the affected areas.
Credit: Siesta Campers
Campervan holiday destinations in Portugal you don't want to miss
Lisbon
Credit: Back-packer.org
A great way to start this list is to head straight to the capital! Known for its hills and ocean views, this city is an incredible place to take your van! Camp further out of the city to enjoy its beautiful nature or stay close to the centre and visit some of the city's incredible architecture and historic landmarks. Siesta Campers have a location in Lisbon, so it's perfect to minimise stress and easy to get sightseeing right away!
Monte Gordo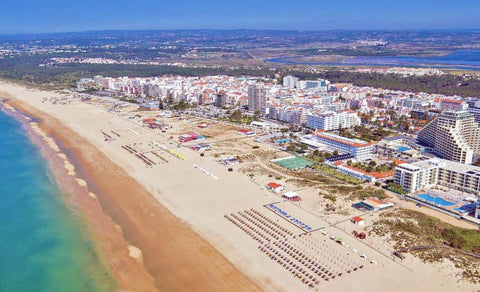 Credit: Portugal Travel Guide
Perhaps you want to stay out of the city and enjoy the sea breeze? Monte Gordo is perfect for that! Known for its sandy beaches, it's a great place to park up and kick back and enjoy the sun and sea!
Falesia
Credit: Windows 10 Spotlight Image
Another incredible coastal destination to visit is Falesia. The beach is picturesque and is surrounded by beautiful cliffs. If you want more than just pretty sights, there are many highly rated spas and retreats in the area. So why not relax after a day of exploring the coast?
Faro
Credit: Transat.com
Maybe you're more into culture and history when you go campervanning? Well Faro is the perfect place for you! The historic city centre is surrounded by mediaeval Moorish walls and the pavements are made from cobble. There are also lots of archaeological findings to discover, as well as fabulous salt-water lagoons. Don't forget to rent your van from Siesta Campers as this is another one of their nationwide locations.
Sesimbra
Credit: KAYAK
Do you like wine tasting or perhaps you like kayaking? A strange combination, but one that is possible and even quite common in Sesimbra. Paddle around the cliffs by the coast in your kayak and then enjoy a delicious wine and food tasting experience in the vineyards.
Douro Valley
Credit: Portugal Travel Guide
If you prefer being deep in nature and the countryside on your campervan trips, we recommend Douro Valley. There are rolling hills for miles and lush green fields as far as the eye can see. Considered one of the most beautiful places in Portugal, it's the perfect place to have a much more authentic camping experience.
Porto
Credit: The Telegraph
Another location under Siesta Campers' wing and our last location on this list is Porto. The architecture in this coastal city is a sight to behold. With grand bridges and colourful houses, the city is definitely one of the most vibrant on this list. It's home to a mediaeval riverside district, that has winding cobbled streets and rickety houses. Definitely worth a visit!
Offset your travel
There are other ways to travel eco-consciously too. At Gone West, we can offset your travel to put your mind at ease. We know that you can't always choose the most eco-friendly travel, whether it be time constraints or travel costs, so this is a great way to counteract your impact.
That's all for now. I hope you have enjoyed reading our blog. Join the sustainable revolution to help save our natural world and our future by following us on Instagram and by subscribing to our monthly newsletter for updates.
Subscribe to our newsletter.