As the world is getting back to normal and we're beginning to travel more freely without restrictions, it's a good time to start thinking more eco-consciously when planning your travels.
Travelling is a very important part of modern society and we don't want to impose negative opinions on people for wanting to see the world. It's part of who we are. So instead of chastising, we're going to show you how to travel responsibly and where the best green travel destinations are in the world.
The impact of tourism on the climate
As a society, we've become more and more aware of how tourism and travel impacts the climate. The pandemic really highlighted how much travel is contributing to climate change and that most of it is unnecessary. About 8% of carbon dioxide emissions are a result of the tourism industry, with general transportation accountable for 29%.
These carbon emissions can lead to dire consequences such as global warming, increase in extreme weather events, displacement of lives, and so much more.
How being mindful about our ways of travel can help the planet
Before we get into the best green travel destinations, let's talk about how to be more eco-conscious on a whole while travelling.
Public transport is best
When travelling around a holiday destination, the best form of travel will always be public transport. Unlike hiring a car to commute between places, public transport can greatly reduce your impact on the environment. In tourist hotspots, it's actually much easier to travel between public attractions because there are generally dedicated routes because the destinations are so popular. Even buses are better than individual cars, but if you can take a train, you could reduce your footprint by up to 84%!
Credit: Traffic Technology Today
Avoid planes as much as possible
If you can find a way to travel to your holiday destination by avoiding air travel, you can greatly reduce the impact your holiday has on the planet. Planes are the number one form of travel pollution, accounting for 12% of CO2 alone.
Of course, we know it's not as simple as not travelling by air, sometimes it's necessary. So you can look for eco-minded airlines or simply just offset your travel with us. It's not a perfect solution, but it is much better than doing nothing.
Travel locally
This one is simple! Explore your own country! Every country has some beautiful places to explore and most of us haven't taken the time to look closer to home for a vacation.
Bypassing planes and long distance travel can greatly reduce the footprint of your getaway, so take a look at your local travel guide for places to add to your bucket list.
Green travel destinations
Now you've got all the tools to prepare to travel sustainably, what destinations are actually the best to visit if you want to be green?
Iceland
Credit: Office Holidays
If we're talking about visiting some of the most environmentally friendly places in the world, Iceland is high up on the list. Most of the tourist hotspots are natural attractions and most of the island is powered by geothermal energy. The capital city, Reykjavik, is considered one of the cleanest cities on the planet.
Although the country is lacking in tree coverage due to the mass deforestation the Vikings took part in, that's beginning to change. Gone West has secured a multi-year contract to continue reforesting Iceland after the success of our last planting season.
Scotland
Credit: PlanetWare
Scotland has been at the forefront of the battle against climate change, being the hosts of COP26 and the first to sign up to 'Tourism Declares a Climate Emergency', they've shown that they care about their impact on the planet. They even have a 'Scotland's Green Tourism' certification for those places that are the best green options when travelling and visiting Scotland.
Costa Rica
Credit: Matador Network
Home to almost 6% of the world's species, Costa Rica is one of the first countries to promote responsible ecotourism. More than a quarter of its territory is dedicated to protected parks and nature reserves that safeguard against deforestation. They also produce 93% of their energy using renewable sources, perfect for an eco-conscious holiday!
Finland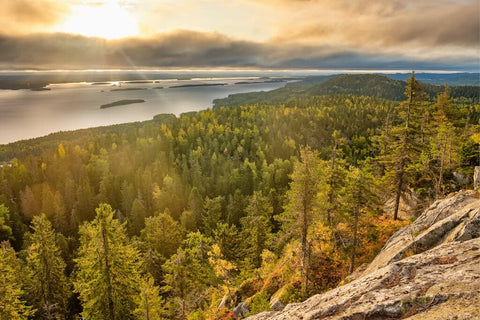 Credit: PeakVisor
What better place to visit than the happiest place on earth? 80% of Finland's terrain is forest and their air and water is the clearest in the world. Their tourist board also has a dedicated programme, Sustainable Finland, to help you plan the most eco-friendly getaway that you can. This guide tells you all of the best places to get involved with local culture and nature without hurting the planet.
Voluntourism
Maybe a laid back holiday isn't quite your style? If you want to really help change the planet for the better, voluntourism may be more your style. From helping protect wildlife in Madagascar to teaching in Nepal, this is a great way to give back to the local people and environment on your travels. There are many different organisations that make this really easy, one quick web search will provide you with endless opportunities.
Credit: Green Live Volunteers
Be responsible
Wherever you decide to travel, make sure you're thinking about the bigger picture. We need to be thinking about the planet more than ever now, and choosing the options that will protect our world instead of damaging it. Remember, you can always offset your travel with us too if you want to take that extra step!
That's all for now. I hope you have enjoyed reading our blog. Join the sustainable revolution to help save our natural world and our future by following us on Instagram and by subscribing to our monthly newsletter for updates.
Subscribe to our newsletter.