The nature on our doorstep is a gift that keeps on giving. It's beautiful to look at, helps put our minds at ease when we're immersed in it, and is a free ladar waiting to be explored.
As a society, we have lost touch with what our ancestors needed to survive. We go from supermarket to shop, consuming food that was imported for Spain or Greece, completely ignoring the food we can see from our window.
In this article, we'll tell you all about Seed Gathering Season 2021, why you should take part, how to get involved, how to forage responsibly and what to look for when you're out.
What is Seed Gathering Season?
So first off, you might be thinking what and when is seed gathering season? In 1998, The Tree Council organised the first Seed Gathering Season to provide trees for the future by planting trees and seeds now. Seed Gathering Season begins on 23rd September and ends on 23rd October and The Tree Council has a whole month of events you can attend. It involves gathering, planting, and growing native seeds and trees.  It starts on the first day of autumn (the perfect time to plant native trees) and they encourage everyone to get out and take part on at least one day of the festival.
With constant deforestation of native and worldwide trees, it's important to do as much as we can to reverse this. There are more than 60 species of native tree in the UK but in the last 20 years we've lost over 430'000 hectares of coverage. That's actually twice the size of the Lake District, in just twenty years.
Worried about deforestation and want to make a change? Why not plant a tree with us? Visit our Offset Your Life page on our website for more information.
However, it's not all about planting those seeds! It's also about foraging and letting the land provide food and produce for us. There are so many edible plants, seeds, and nuts that grow in the UK and Seed Gathering Season promotes foraging for them.
Why the importing industry is unsustainable
Now let's talk about why foraging and planting native plants is good for you and the planet…
The UK's food industry is far from sustainable. We're not self-sufficient in any way, with around 80% of our food being imported from the EU and further afield. Realistically, it's not looking good for us. 20% of our fresh produce comes from countries at risk of climate breakdown, 40% of our food comes from overseas, and Brexit is predicted to 'cancel christmas' because of the food shortages it has caused.
In just a few years, we could see real impacts from our unsustainable food industry. In fact, we've already started to see some impacts. Popular UK restaurant chains, such as Nando's, Greggs, Costa, McDonalds, and KFC have seen food shortages so bad that they've had to take items off their menus or even close down temporarily.
Supermarkets are also taking a fall because of Brexit. Expensive imports, lack of workers and lack of trade deals has meant that our shelves are empty and will stay like that for a long time. Co-op, Iceland, Tesco, Sainsburys, M&S, Morrisons, Asda, Aldi, and Waitrose have all been hit, and many fear that this will impact us for at least 18 months, getting much worse before it gets better.
That's only half of the problem. The UK's food industry is responsible for 17% of total greenhouse gas emissions – that's 32 million tonnes of carbon. The pollution comes from agriculture, deforestation, and transport of the food goods.
To learn more about the impact that industry has on our trees, read our Amazon Rainforest Day Blog.
Why take part?
After reading that, you now know that deforestation in the UK is having a bit of a crisis. But what's so important about trees? Well, one tree can absorb a lot of CO2 in its lifetime – around 1 tonne. But one person can produce about 20 tonnes, meaning we'd have to plant around 20 trees to counteract our footprints. The thing is, those 20 trees per person may combat global warming on a personal scale, but the mass deforestation caused by big companies and industries is a much bigger problem. We need to plant as many trees as we can, but also lower our footprint. We also collectively need to hold these big industry names accountable for their part in global warming.
Seed gathering has a long list of reasons why you should take part. Planting trees and seeds creates habitats for the future. Restoring woods and forests with native trees can reintroduce the wildlife that we're losing, as well as bring communities together in an outdoor space they created.
Foraging will also take a small part of the demand away from frequently imported items and, in turn, helps you reduce your carbon footprint. It's also a great way to explore new flavours without any extra cost. Speaking of extra cost, it's also completely free! It's a great hobby that gets you outside and can put food on the table without spending money.
The benefits don't stop there! Being outside and surrounded by nature is great for your mental health. It can reduce anxiety, stress and even reduce the symptoms of mood disorders.
Why not read our Complete British Nature Guide to learn more about the health benefits and to find out how to conduct yourself while you're out?
Foraging 101
Now you're geared up to get outside and start foraging, you need to know what to look for and how to do it sustainably.
Foraging Etiquette
Before you go out and forage everything you find, you need to know the rules and guidelines in order to be respectful and safe.
Be mindful of where you are walking. 

Try to stick to the paths that have been marked to avoid trespassing and damaging the wildlife. 

If you do find yourself away from the beaten path, make sure to not trample any plants or any animals' homes.

Leave everything as you found it and don't leave any litter behind.
Don't trespass. 

Taking plants and fruits from private property is illegal. 

This includes overhanging trees and plants that may have grown on the border of somebody's property.

Make sure not to dig up any weeds or plants 

This is illegal. 

Instead, take small cutting or just pick the fruit/nuts directly from the tree/plant.

Leave plenty behind!

Don't take everything you find, just take what you need.
Common Plants To Look For
Below are a list of common plants, fruits and nuts that will be readily available this October.
Blackberries
Credit: The Natural Navigator
Now, this is great for first time foragers. Blackberries grow in many places around the UK. You can find them everywhere from the side of the road to a secluded field. Try not to pick any from the side of the road because it could be dangerous and the fumes from the cars may make them toxic.
How to use
Once washed, a blackberry has endless possibilities! You can eat them raw, or you can bake them in pies, crumbles and cakes.
Beech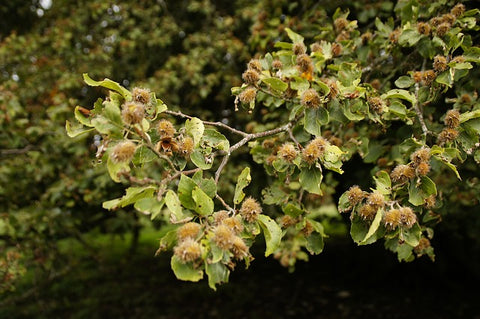 Credit: Foragers Folly
Beech trees have nuts and leaves that are both edible. They are pretty common and can be used in a variety of ways.
How to use
Ripe nuts can be used as a snack (tastes similar to a walnut), or can be made into an oil. Before eating, make sure to peel off the brown outer skin and roast them in the oven. Large quantities can be toxic, so don't eat too many of them!
The leaves are a great substitute for salad leaves. They can taste as sweet as a mild cabbage and all you have to do is wash them. Don't eat them if they've become tough because they can be toxic!
Sweet Chestnut
Credit: Victoriana Nursery
Chestnut trees are pretty well distributed around the UK. Make sure you have found sweet chestnuts and not horse chestnuts. Sweet chestnut shells look like the picture above, there are a lot more spikes and they look quite fluffy. Horse chestnut shells, however, have much fewer spikes and are mainly smooth. If you're not 100% certain, leave it. Horse chestnuts are poisonous, so it's always better to be safe if you're not sure.
How to use
You can roast the chestnuts and eat them as snacks, or you could make chestnut purée or flour. Here are some recipe ideas.
Dead-nettles
Credit: Gardenia
Dead nettles are very common throughout the UK. They may often be confused for stinging nettles, but these nettles flower.
How to use
Nettles can be washed and seasoned, and then eaten. But there are many recipes that you can make with them, like soups and tea!
Hazelnuts
Credit: Gardener's Path
Another widely available tree is the Hazel tree. The best time to harvest hazelnuts is when they are brown – not green. Unripe nuts are harmless, but they don't really taste like anything, so it's just best to avoid them.
How to use
Once washed, the opportunities are endless. They make a great snack, but can be made into spreads, milk, and sweet treats.
Rosehip
Credit: Ben Lee / WTML
Rosehips are commonly found in hedgerows but are widespread across the UK. The seeds are hairy and are an irritant, so make sure to either wear gloves or filter out the seeds once cooked.
How to use
The fruit is packed with Vitamin C, so is a great home remedy for colds and flu. You can make jams, syrups and even wine out of them, and they are extremely tasty!
Sloes
Credit: Wikipedia
These tasty berries are readily available in the UK. The best time to pick them is after the first frost, when their skins have softened.
How to use
A popular use for Sloe berries is gin. If you make the gin as soon as you collect them, it should be ready in time for christmas! It's a great festive gin and tastes great. Other uses for sloe berries are jams, vinegar and puddings.
Walnuts
Credit: Britannica
Walnut trees are often found in fields, parks and urban areas. Try to pick them when they're dry because they'll taste much better!
How to use
As soon as you've washed them, they're ready to eat. They are tasty snacks or can be used in cakes, butters and pesto.
Resources
There are so many more things to forage in the UK, but we couldn't fit them all into this article. So, we've compiled a list of trustworthy and useful resources below:
Foraging, rules and monthly guides

A full guide to foraging, includes herbs, spices, plants, fruits, nuts and fungi. 

120 different species of tree, plant and mushrooms to help you on your foraging journey
Plant seeds with Gone West
Let's not forget the most important part of Seed Gathering Season, planting seeds! Gone West has planting projects all around the globe that help replenish areas that have been subject to deforestation. From the Amazon to Iceland, we're helping the world offset its carbon rich lifestyle. And the best part? You can get involved too!
We're always looking for more people to work with us and get involved with our reforestation projects, so if you want to plant some trees, save the planet, and earn money while you're at it, our Reforestation Worker job role could be for you.
If you don't want to get your hands dirty (totally ok, we get it), you can plant a tree with us or if you have a project that you're interested in funding, visit our Plant and Protect Projects page and our Offset your life page.
So now you're ready for Seed Gathering Season! Whether you plant seeds, forage, plant trees from your sofa, or all three, you've got everything you need for the next step!
Happy foraging!
That's all for now. I hope you have enjoyed reading our blog. Happy Seed Gathering Season! Join the sustainable revolution to help save our natural world and our future by following us on Instagram and by subscribing to our monthly newsletter for updates.
Subscribe to our newsletter.