There is no doubt about it that the Earth is in a crisis. Our planet faces daily problems  such as air pollution, increased warming, dying species,  increased plastic consumption,  shrinking coasts , plastic pollution, sea-level increase, among many other threats.
Every three seconds, the world loses enough forest to cover a football pitch and there is the growing popularity of the need to be more environmentally conscious and friendly. But that's not enough to tackle our already scarred earth.
There are more ways to help our forests than to be just eco-conscious. And that is to be proactive and help invest with businesses who set out to help relieve the damage  and strain we have already put on our Earth. We at Gone West hope to continue and strive for our planet's forests and trees in the form of regeneration.
Excitingly, we are opening up the opportunity for the public to invest in us (Capital at risk. Approved by Seedrs)! By investing in us, you are not only making an investment for yourself but also for our planet and forest life.  Please visit us on Seedrs to pre-register before we open up our investment opportunity. But don't worry if you are not quite convinced yet. We will go into further detail about who we are, what we do and what's in it for you below…
Who are we?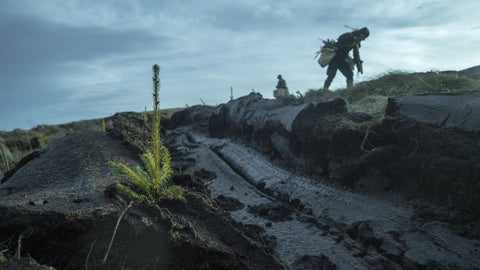 First off if you are investing with us you will want to know who we are.
Gone West is a tree planting company.
Our goal is to create environmental and social benefits worldwide: we want to generate ethical, green jobs and help establish or restore natural habitats. Gone West is a community-run company, and one of our primary goals is to empower people. Everyone deserves a chance to live in a better world. By creating meaningful jobs in tree planting, people can make a living while helping the environment. We couldn't emphasize more how much we owe it to everyone who was or still is part of the Gone West family and worked together for a greater cause.  Everything we do is only possible thanks to these people.
We are here to make the world a little greener. Our specialty is creating native forests, but we're also experienced in planting small, medium and large commercial woodland.
Since our humble beginnings we have planted more than 5 million trees but that's just the beginning. Over time, we have acquired relevant and extensive experience in woodland creation, restock, soft landscaping and maintenance work. Our teams, led by the example of their experienced and tireless foremen, are competent and qualified. Our planters are trained to the best quality of planting, and always work efficiently, safely and speedily.
If you would like to check out a day in the life of our planets be sure to check it out here.
How do we do what we do?
Literally just by the simplest of starts by planting a lot of trees. On average, every human being produces over 800 pounds of Co2 per year. Whilst one tree is able, through its lifetime, to offset and store 1 tonne of Co2. We offer people and businesses the opportunity to purchase as many trees as necessary to balance their equation. By investing with us, you allow us to plant and protect those trees on your behalf, contributing towards a more sustainable future for everybody.
Not only do we plant trees there's a lot of work behind the scenes as well, we partner with projects around the globe who specialise in eco-restoration and permaculture. They have the land, the know how and the means to properly plant and care for those trees. Usually what they don't have is a stream of revenue. That's where we jump in, providing them with native trees and paid labour.
We have multiple planting teams working in different locations. We provide them with transportation and accommodation guaranteeing them the maximum flexibility and speed in moving from one planting site to the next.
Our goal has always been to create environmental and social benefits around the world: we want to generate ethical, green jobs and help to establish or restore natural habitats.
The ins and outs…
Who is behind Gone West?
Gone West began with one planter. But since then it has expanded to a team of more than 150 planters, and 20 people running the behind the scene's stuff. We are working together on one big dream, to create meaningful jobs and make this world much more green.
Why is tree planting important?
It's important because climate change is real. We have drastically underestimated our impact on the planet, leading to the extinction and endangerment of countless species, possibly including our own. In the past two centuries we cut down 50% of the world's forest, the global temperature has been rising yearly, and the consequences are just under our eyes everyday. It is time to act.
Our aim is not only to nourish the planet but also human connections which are gained through the planting of trees.
If you have any more questions about us why not visit our FAQ page or email us directly with an enquiry to [email protected]
Where do we plant our trees?
All across the world projects are sprouting up that need our help. They are working for social change, they are working for climate justice and often they are working for their lives. We supply them with trees, resources and visibility, because their cause is our cause.
All our trees are being planted on accessible land, and we picked places that are fun to visit.
What species of tree does Gone West plant?
This all depends on the planting land we're working on. We only plant trees native to that environment, because non-native trees can have a negative effect on wildlife and their habitats.
Benefits of investing with us
There are a plethora of reasons as to why you should invest with us, the main reason being that you will be helping the planet but we also want you to know why investing with us will benefit you as a person.
First of awe are squashing a rumour that green investing does not go hand-in-hand with lower returns, this has been shown more than multiple times to be false as there are now more climate-focused investment options than ever before and in July 2020, Moneyfacts revealed that 140 ethical unit trusts had grown by 4% in the 12 months to 1 July 2020 compared to a contraction of 1.5% for those not in the ethical category.
Green investments sit under a wider ethical investing umbrella, which have become increasingly popular over the last decade as consumers become more socially and environmentally conscious.
If you are passionate about the environment and trees choose to invest with us as we want to relate to investors who want to invest based on their own ethical values and beliefs. While ethical investments not only tend to benefit society and the environment, these types of investments have also been shown to outperform the returns of their non-ethical equivalents.
Once again ethical investments have been shown to outperform traditional investments in recent years:
In fact, a majority of sustainable funds have outperformed their traditional peers over multiple time horizons," it says. Over 10 years, the average annual return for a sustainable fund invested in large global companies has been 6.9% a year, while a traditionally invested fund has made 6.3% a year.
Not only that but for every share that is purchased and invested with us, we will plant 2 native trees in your name, alongside one of our partners' projects around the globe. Your investment will create social value in the process and will generate returns across the board.
What We Benefit From Your Investment
By investing with us it enables us to use the proceeds and capital to create more sustainable jobs, plant more trees and better our forestry services. It's also helping our goal to expand more globally.
Your investment allows us to give back to the communities who have brought us so far and help them reap the rewards of all their continued efforts to help our forests.
What We Have Accomplished So Far This Year…
The year of 2021 has been a good one for us, apart from the pandemic we have been able to spread some positivity this year with the help of donations and partnerships, we managed to plant over 1 million trees since October 2020 and over 5 million trees since GW was established. In addition to the plethora of trees we have managed to plant we are also well underway with several regeneration projects, to list just a few;
Argentina/ Cordoba Province Project
The aim to regenerate Cordoba Province (which is within Central Argentina) was inspired by the devastation which has been caused by forest fires.
This project is being run by local landowners with the aid of a local PhD student, by planting native trees and plants which have been sourced from local nurseries such as the Tala, Chañar , Espinillo Manzano del Campo, Coco, and Algarrobo trees.
By planting these trees, it helps us in our aim of supporting and increasing biodiversity, increased water retention which helps increase the unlikeliness of forest fires, and overall lower water use.
300 trees planted to date.
Manchester, UK
By partnering with Friends of Fog Lane, Gone West is aiming on planting 1000 native broadleaf trees at Fog Lane Park, split evenly between Oak, Alder and Hazel trees. We are well underway with this project having reached the halfway point.
This partnership will allow us to provide green space for the city's residents, help mitigate problems with flooding and provide vital habitats for bird life, as well as native pollinators. These trees will help provide events and activities that enable their amazing community to come together and grow.
500 trees planted.
Mombasa, Kenya
Camp Mombasa Mangroves is restoring mangroves in Kenya. What is unique about this project is that they are deeply entwined with the local, urban community. Even the local school children regularly help out with planting activities, with the trees being planted a stone throw away from the high-rises in Mombasa.
By planting Mangrove trees, they are able to stabilise shorelines from erosion and allow the storage of massive amounts of carbon. The trees thrive in salty, coastal waters and will soon be teaming up with a kaleidoscope of fauna, fish, birds and insects. The aim is to plant 45,000 of these resilient trees.
1944 trees planted to date.
Tanzania /Usambara Mountain Region
By partnering with the guys at The Friends of Usambara Society  we aim on repopulating the Usambara Mountains region. Just like us they plant trees, protect and regenerate forests, combat desertification and promote sustainable forestry.
We aim on planting 1,000,000 native trees, using a sustainable approach to community forestry which will enable support for local Tanzanians to lift themselves from poverty, while at the same time restoring their native environment.
500 trees planted to date.
We hope we have piqued your interest to invest with us, if so, please visit Seedrs to pre-register for when we go live. If you are not fully committed to investing with us why not shoot us an email at [email protected] with any of your worries or concerns.
No need to worry if you have no plans in investing, you can always help us  thrive with donation of a tree or supporting our Instagram.
Subscribe to our newsletter.