Here at Gone West we are continually looking to expand our horizons and help better our world's forests like any other business, in order to reach our goals we need to be constantly generating new ideas and projects, and one way in  which we do this is by collaborating with businesses who have similar ethos and visions of making our planet more sustainable. 
By collaborating with businesses we are able to grow more and take on board more planting projects. You can't grow without continually evolving and no two collaborations with us normally look the same considering we have now partnered in different sectors from a beer business to a supplement business. 
Just like the trees we plant, we have all the intention of growing long into the future.
 Before you dive in, have you thought about investing with a sustainable eco friendly business whilst also helping the planet? Visit Gone West's Seedrs page to pre-register interest for our investment opportunity before it goes live. (Capital at risk. Approved by Seedrs.)
So First Off, Who Is Spokesafe?
Spokesafe are a business that is on a mission to reduce bike theft. Spokesafe is building a growing network of secure bike parking, available to all cyclists at the click of a button.
They want to help create cities which are healthy, safe and sustainable. By utilising redundant space, and transforming it into secure bike parking, Spokesafe wants to make active travel the default choice for inner city transport, for everyone.
They provide cyclists with instant access to a growing network of secure bike parking spaces. Launched in 2019, their technology helps communities leverage their infrastructure to open up cities and promote sustainable modes of transport. Wishing to make active travel the default choice for inner city transport they work with stakeholders to manage & monetise under-utilised & redundant space, leveraging existing infrastructure to open up cities & support sustainable modes of transport.
The Founder: Max Wilson
With a background in commercial real estate, you may think how he has become to have become the CEO of a friendly transport business but Max like everyone else was a normal everyday commuter who happened to ride a bike, who was inspired and advocates for the possibility of bike friendly cities. 
Spokesafe was established in 2019 when Max decided to convert two spaces in an underground car park in Central London into 40 bike parking spaces. Using this as a launch pad. Just like Gone West do with barren woodland, Spokesafe has been obsessed with repurposing under-utilised and redundant space ever since.
As their ethos says, they exist to create cities which are healthy, safe and sustainable. 
They aim on expanding to further locations in addition to 4 opened locations. They also launched brand new secure outdoor bike lockers recently. Making their first appearance at Waterloo in London, these lockers are helping even more Londoner's go green. There's no need for a lock and key here – simply sign up with Spokesafe to receive a 7 digit code to give you access by the day, week or month. And once one cyclist has finished, another cyclist can use the space after them – meaning less materials are needed to accommodate more cyclists.
What Our Collaboration Looks Like
Basically our collaboration comes in the form of a donation spot donate/tap box called 'The GoodBox' as you can see above in the screen of their Covent Garden location.
Here their customers as well as passersby are exposed to our donation box and have the option to donate electronically cards/ smartphones a tree with us, this is in the form of a small £1 donation. 
How We Have Benefitted From Our Collaboration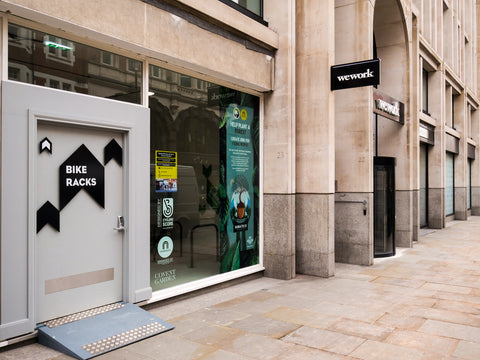 The idea of our collaboration is that we will both benefit from it, this isn't a one sided deal we would never partner with a business only hoping for a benefit from our side. So in addition to the donations we will gain from the spot, we will be able to plant trees with the help of Spokesafe's customers and marketing. We are also hoping to expose them to more customers on our social media handles.
If you happen to pass by the covent garden location be sure to check out our GoobBox, and whilst you're there if you are a cyclist in London be sure to check out their cycling facilities they offer to ensure you have a safe and easy commute.  They offer 24/7 access to their spots, which are fully secured helping significantly reduce the risk of theft and damage to the bikes, they even offer fully flexible memberships in addition to state of the art bike charging stations. 
If you can't reach their location and are interested in donating a tree with us please visit our link here.
By partnering with another great business, we hope to go on to collaborate more in the future with other brands and businesses who feel passionate about our planet. Excitingly, we are also opening up the opportunity for the public to collaborate with us in the form of investing with us! (Capital at risk. Approved by Seedrs) If you are interested in this, please visit us on Seedrs to pre-register before we open up our investment opportunity.
We hope you have enjoyed the article about a new collaboration and hope you continue to follow us as we grow and expand in the future. If you would like to keep up with us on our journey,  please be sure to follow Spokesafe's Instagram and us on Instagram.
Subscribe to our newsletter.