Christmas day is almost upon us! The day we spend unwrapping gifts, playing games, and getting merry with our loved ones. It's all about showing love towards one another and celebrating what we have as an individual and a collective.
However, that love rarely extends to anything outside of that core circle of people we care about. We have a planet that needs our help desperately and Christmas is doing the opposite of that. But it doesn't have to be one or the other, we can save the planet as well as celebrate Christmas.
The festive season actually generates the most amount of waste in the year. This is because of wrapping paper, cards, packaging in gifts, unwanted gifts, decorations, and food waste.
It's not all doom and gloom though, if we just change some of our habits, we can drastically alter the effects of Christmas on the planet. In this article, we're going to show you a few ways to reduce waste, reuse waste, and properly dispose of it.
Did you know that Christmas is actually rapidly accelerating the loss of the North Pole? Read our article to find out what's going on and how you can help.
The effect of Christmas on the planet
If you've been keeping up with our weekly articles, you know that Christmas has an awful impact on the earth. Around £42 million worth of unwanted gifts end up in landfill every Christmas and we buy about 20% more food in the festive season in the UK alone. We also use and waste around 227,000 miles of wrapping paper and send a billion Christmas cards too, which is about 33 million trees worth of paper.
Other than that, we also release up to 650kg of carbon emissions per person at Christmas. That's 5% of the average person's yearly carbon footprint, just at Christmas.
Credit: phs
Do you know what impact you're having on the planet when choosing a Christmas tree? Read our article to find out more.
Physical waste isn't the only waste generated at Christmas. Our homes use way more energy in the holidays because of our decorations, use of lights, and heating. Christmas lights in America account for 6.63 billion kilowatt hours of electricity annually – that's more than the yearly consumption of the entire country of Tanzania…
It's harder to do much about heating because it's really cold at this time of year. But there is something we can do! In the UK, we've got a huge range of energy companies to choose from. Some of them are very environmentally conscious and only get their electricity from renewables. Using one of these providers can drastically lower your carbon footprint and help you have a greener Christmas.
Unsure which energy company is right for you? Don't worry, we've got you! Find out everything you need to know in our Best Green Energy Providers article.
What to do with your Christmas waste
The numbers surrounding Christmas waste are scary, but it doesn't have to be this way. There are so many options to reduce, reuse, recycle, dispose of your Christmas waste so it has the least environmental impact.
Use less
The simple way of reducing your waste at Christmas is to just use less. We always buy way more food than we need at Christmas, so instead of guessing how much food you need, make a meal plan or ask your guests exactly what you need.
For wrapping paper and packaging, get creative. Wrap presents in one instead of separately, or use a gift bag you already have lying around. This way you'll massively reduce the amount of wrapping paper wasted on Christmas day.
When it comes to presents, you could buy more expensive/meaningful gifts instead of lots of cheaper gifts to reduce the amount of gifts that end up in landfill. If you get a more meaningful gift, the recipient is also less likely to get rid of it. You could also shop at more mindful companies or second-hand stores to further reduce your impact on the climate.
Credit: IStock
Want to give gifts that won't hurt the planet but don't know where to start? Look no further! Read our Sustainable Gift Guide article for all of the eco gift ideas you need.
Reuse more
If you can't reduce the amount that you're using or buying, that's ok! There's still plenty you can do that doesn't generate more waste.
Instead of buying new wrapping paper every year, you can get creative and have a look at what you've got lying around the house. Any scrap pieces of paper or newspapers you don't want can be turned into gift wrap, as well as fabric or bags. You can also put aside the wrapping paper you open this year and reuse it next year.
When it comes to festive food, you can use the leftovers in so many different ways. There are lots of ideas and recipes on the internet to give you some inspiration. For example, BBC Good Food has a full page of recipes you can make from just a Christmas Dinner. If you're not feeling like making a whole different meal, you can store it in the freezer, or why not take the leftovers to a local homeless shelter?
Credit: The Field
Make sure to reuse all of your Christmas decorations too! They can last for many years and they'll never go out of style. That includes your Christmas tree! Whether you've bought a real or a fake Christmas tree, you can reuse both. It's a little more obvious how you reuse a fake tree than a real one, but it's doable. First off, you can actually rent real trees! There are many places around the UK that let you hire the same tree year in year out by digging it up, potting, replanting, repotting, and so on. Other than that, you can repurpose the wood, using it for the fire or to build other things around the house.
Want to know other ways of being sustainable this Christmas? Read our 7 Tips for a More Sustainable Christmas article to get you started.
Recycle what you can't reuse
There are actually a lot of options and ways to recycle things at Christmas. Real Christmas trees can be recycled by most councils in the UK. All you have to do is contact the council and they will collect your tree for free or tell you to drop it off at a local recycling point.
A lot of food waste can be composted or disposed of in separate food waste bins. This separation is much better for the planet because most food will decompose when it's on its own but won't, or will take much longer when it's combined with other waste.
If your Christmas decorations have come to the end of their life, don't just throw them away. Much like Christmas trees, there are many options that local councils provide to dispose of decorations in a better way than landfill. All you need to do is check your local council's website to see what they accept and where it can be recycled. Most actually suggest putting the decorations curbside so they can collect it. This is also true for gift wrapping.
Repurpose
The last thing on our list is repurposing. What better time to craft things using waste than the break we get around Christmas? You don't have to work, the kids aren't at school, and you've got a bunch of time to kill with the family!
The first one is probably the most obvious one, repurposing the wood from your Christmas tree. You could use it for logs on the fire, turn it into wood chippings for garden paths, or you could use it for loads of different DIYs!
Like we mentioned earlier in this article, wrapping paper is one of the biggest contributors towards waste at Christmas, so finding a way to use it instead of binning it is very important. The first really simple way to use leftover wrapping paper is to use it for packaging. If you need to send a parcel or wrap a breakable gift, it's a great alternative to bubble wrap or packing paper. There are also many other things you could use wrapping paper for, from practical purposes like packaging, to more creative projects like making Christmas bunting.
Credit: rosiepink
Speaking of packaging, let's dive into a way you can repurpose all of that single use plastic that comes in your gifts. There are actually quite a few ways to use plastic packaging, and many of them are fun and rewarding! You can make a quick bird house or bug hotel using the plastic casing of bigger gifts (just make sure that the edges aren't sharp) and fill it with wood chipping from your tree. You can also try more ambitious projects like making plastic earrings, the possibilities are endless!
At the end of the day, there are many ways you can be more eco-conscious at Christmas and there are lots of alternatives to throwing out your waste too. With the help of everything on this list and being more mindful, you're well on your way to reducing the impact of Christmas.
If you're still concerned about your impact, you could also offset your CO2 emissions. Gone West has a lot of options for personal and professional offsetting, and you can plant as little as one tree!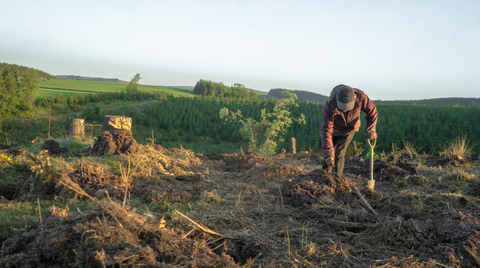 You've got the power to change your impact on the planet this Christmas, so let's change it!
That's all for now. I hope you have enjoyed reading our blog. Join the sustainable revolution to help save our natural world and our future by following us on Instagram and by subscribing to our monthly newsletter for updates.
Subscribe to our newsletter.